Traffic Disruption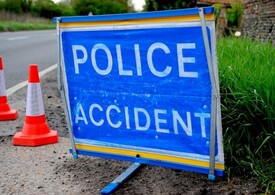 During major traffic collisions, especially those involving dangerous goods or of catastrophic impact, traffic will be detoured whenever possible. There are three main reasons for this diversion of traffic.
It is often dangerous for the motoring public to be in the collision zone. This is especially true for those persons hauling large travel trailers or commercial loads. In some cases these units can actually block all traffic from passing through the scene so it is better to divert at the best possible location rather than having long lines of traffic not moving. Diversion will keep traffic flowing at a regular, but slower pace. If diversion is not possible traffic will have to be controlled through the scene which often means a single lane stop and go type of control.
Emergency responders can become extremely focused on the task at hand. Trying to rescue a small infant from a crushed vehicle may divert their attention just enough so they step back or walk around a rescue unit into the path of a moving vehicle, whose driver is momentarily focused on the collision site not vehicular momentum. Diverting traffic around the scene, rather than controlling it through a scene, is a safety measure for responders.
Accident scenes can be very traumatic and gruesome. This has an affect on the responders but it also has an affect on the motoring public who are exposed, however briefly, to the devastation present. While it is possible to debrief and assist responders who are affected by the event it is impossible to reach out to everyone, especially small children, who drove by and were exposed to the horrors of the scene.
Obey all signs and flag persons at collision scenes. They are there to protect everyone and will do their best to keep you travelling as best that the circumstance will allow.