Emergency Preparedness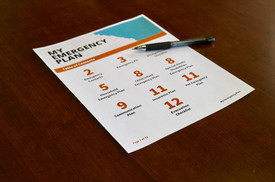 Municipalities may have vastly different Hazard Risk and Vulnerability Analysis, (HRVA), from their neighbor. Each municipality however will create an HRVA each year. Being part of the analysis process will help you to better understand emergency preparedness and plan preparation.
There are a number of steps that you can take to be prepared, all of which are covered within the Be Prepared section.
STEP ONE: Know the hazards. 
In Alberta, we can face meteorological events (such as blizzards, tornadoes and wildfires), industrial accidents (such as chemical spills), technological events (such as power outages), biological events (SARS, H1N1) or intentional acts. No matter what the source, these hazards can have a large impact on your community. Understanding the risks and taking steps to mitigate the impact can stop a hazard from turning into a disaster.
STEP TWO: Plan for those risks and hazards. 
Disasters often cause confusion and distress. A household plan will help you cope with the stress of an emergency or disaster. Taking the time now will help your family feel empowered, knowing they can survive on their own. Be mindful when talking about emergencies with children. Remind them that if an emergency happens, someone will be there to help. Talk to your children about people they can count on such as firefighters, police, teachers, neighbors and emergency workers.
Consider that your family may not be together when an emergency occurs. Discuss what you would do in different situations. A good first step is to put a list of emergency numbers by each telephone in your home and keep the contacts in your cellphone up to date. This list should include the work and cellphone numbers for each person in your family or home. Tell your children what each number is for and provide them a contact list for their school backpacks.
STEP THREE: Create your kit. 
In an emergency, you will need some basic supplies. By taking a few simple steps today, you can become better prepared to face a range of emergencies. Individuals and families should be prepared to be self-sufficient for a minimum of 72 hours.
STEP FOUR: Stay informed.
During an event it is extremely important to keep informed with accurate and timely information. Emergency response teams will work very hard at providing that information through a number of channels and you are encouraged to use them all. 
DID YOU KNOW: 
Some models of the emergency preparedness process include another step: Review and Practice your Plan. 
You are encouraged to visit your emergency kit and your plan on a regular basis to makes sure information is up-to-date, supplies are fresh, and your plan still addresses current needs. It is also a great opportunity to make sure the risk assessment for your area - or even members of your household - has not changed.